Background on a Flying Scot family
by Dan and Christine Neff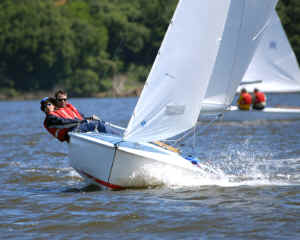 The Neff family has been sailing and racing Flying Scot's since the mid 1970's. Robert (Bob) and Mary Ellen and their three kids Lorie, Dan, and David enjoyed many weekend trips from their home in St. Louis to Fleet 84 on Carlyle Lake in Carlyle, IL.

In 1980 sailing and work brought the Neffs to the east cost, where they spent their spare time sailing and racing their Scot on the Chesapeake Bay. By the late 80s, the kids had grown and spread out, taking a love of sailing with them. Lorie spent time in the islands as a cook on a boat for a few years, then moved to San Francisco. Lori received her A&P certificate from Spartan College of Aerospace and Technology. Dan went to school at Old Dominion University in Norfolk,VA . He studied Mechanical/Aerospace Engineering and found time to participate on their sailing team. David studied Architecture at Savannah College of Art and Design While there he started a sailing club.

In 1988 Bob and Mary Ellen shifted gears, and established Selby Bay Sailing Center. It's located near the mouth of the South River that flows into the Chesapeake Bay, just south of Annapolis, MD. From the start they intended to build a facility just for Flying Scots. You may well have met one or more Neffs at a boat show, such as the one in Annapolis each October.

Today Selby Bay Sailing Center is well established exclusively for Flying Scots. SBSC is home to Fleet 42 and two large sailing clubs, NIH Sailing Assoc. and Goddard Sailing Assoc. Currently about 50 individuals keep their boats there all year round. The main "draw" besides sailing on the beautiful Chesapeake, is racing every Wednesday night all summer long. Usually there are at least a dozen Scots out there. Bob and Mary Ellen also represent the factory and would be glad to talk to you about new and used Flying Scots. They provide factory parts and offer individual sailing lessons in the Flying Scot.

Lori lives in Wyoming where she works for M.K. Weeden as a heavy equipment operator in Montana. David previously lived in Charlotte, NC. where he races FS #3109 with Fleet 48 on Lake Norman. In 2004, David took over SBSC from Mom and Dad, so that they can enjoy sailing and traveling the country. Between 1995 and 2015 Dan represented the Factory. His territory covers New Jersey and surrounding areas . Dan met his wife Christine at the 1997 Flying Scot Mid-Winters. They married in 2001 and make a great team racing FS#2929. They were members of Fleet 7 located in Greenwich Connecticut and travel to as many as 15 regattas a season up and down the east coast. Now living in South Carolina Dan and Christine are very busy keeping up with their four children and teaching them to sail at Western Carolina Sailing Club when ever there is a chance to get on the water. Ella, Andrew, Brigid, and Fiona all enjoy sailing on the Flying Scot.

In 2000 Dan came up with the idea for FlyingScotRacing.com. "Racing" came to mind because we enjoy racing our Scot, and he wanted away to share information and sailing images collected over the years. Dan manufactures the MasterHelper and enhances the winch cranks with plastic handles for smooth operation.
We hope you will enjoy the countless images that we have collected over the years while we travel from one club to the next. Visit www.danielneff.com to view his photography.
Sandy Douglass and the History of the Flying Scot

Gordon "Sandy" K. Douglass
In 1956, after having nearly forty years of sailboat building experience, Gordon K. (Sandy) Douglass began to work on a new project from his home in Mentor, Ohio. He wanted a new type of boat built out of a new material called fiberglass. His past successes with molded plywood in his Thistle and Highlander designs were now firmly behind him with his departure from Douglass & McLeod, builders of these two previous designs. Sandy wanted this new design to be a boat that a family could enjoy - roomy, comfortable and stable.
By fall he launched the wood prototype of this new design, the Flying Scot, for testing. The boat performed better than he had hoped and made him certain that he should get the boat into production. Being a man with a small ego, Sandy named the new company the Gordon Douglass Boat Co., Inc. and after some early production problems, he managed to complete his first boat in the spring of 1957 and found it to be an immediate success with many more orders. In June 1957, Eric Ammann joined the company and in short order, became Sandy's right hand man in production and marketing the Flying Scot.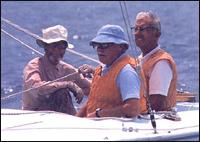 Sandy Douglas (left) sailing his beloved Scot with friends
A combination of events (not the least of which saw the State of Ohio condemning Sandy's new house) led Sandy to move the Gordon Douglass Boat Co., Inc. from Mentor, Ohio to Oakland, Maryland in August 1958. The company took up residence at Third and Omar in an empty car dealership. From this location, Sandy and Eric built the Flying Scot into a strong national one-design class. They spent as much time as possible with each customer and strived to add "the personal touch" to the business delivering hundreds of boats coast to coast. A major accomplishment included the adoption of the Flying Scot as the official club boat for the Detroit River Yachting Association and the Gulf Yachting Association. This gained valuable exposure to hundreds of members at more than fifty clubs.
In 1971, Sandy decided to retire and sold the business to Eric Ammann. After a brief partnership, Eric bought out all of the shares and brought his wife, Mary, into the business. Together they continued to build on the tradition of quality and personal contact. They also began to focus on an ever-increasing part of the business - replacement parts.
With more than 2500 Flying Scots having been built by 1975, there was an increased demand for replacement parts. Eric and Mary worked to build on this by setting up a daily pick-up by UPS and allowing any Flying Scot owner to be on an open 30 day account. "The bill is in the package, send us a check when you get it." became a common phrase in dealing with Scot owners. Eric and Mary also worked hard to get most orders out within 24 hours. Flying Scot owners responded to this preferred treatment and rewarded the company with an ever increasing demand for replacement parts and almost no bad debts.
Eric and Mary also recognized a need to focus more on individuals who did not know how to sail as the best source for new customers. They rented a property on the Turkey Neck section of Deep Creek Lake called Hickory Ridge in the summer of 1975. They also employed a college student, Harry Carpenter, to manage the rental and sailing school. Things were slow at first and Harry worked more at the factory in Deer Park than at Hickory Ridge for the first two years. While not showing a great profit on paper, Hickory Ridge became an important aspect of Gordon Douglass Boat Co., Inc. It allowed individuals who did not own property on Deep Creek Lake access through the mooring rentals. It provided a place where Eric & Mary could send new owners and prospective owners to learn about sailing the Flying Scot. Finally, it brought a stream of new prospective customers through the rental operation.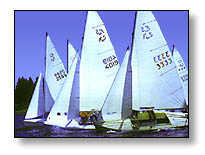 In June of 1978, Eric and Mary employed Harry Carpenter on a full time basis to assist in the operation of the business. Harry began working in the shop rotating through most of the different production operations. He also helped Eric and Mary with the office tasks. Harry began to campaign his own Flying Scot at major Flying Scot regattas including the North American Championship and the Midwinter Championship. Harry met his wife Karen at one of these regattas in 1979 and they were married in April 1981. Karen was a Registered Operating Room Nurse living in Chambersburg, Pennsylvania. She became Harry's regular crew and together they have won many Flying Scot events including the North American Championship in 1988.
Eric and Mary first discussed retirement with Harry and Karen in 1985. Harry and Karen expressed an interest in working toward eventual company ownership. Harry became the company Vice-President and began to acquire stock in Gordon Douglass Boat Co., Inc. Karen began working part time to learn as much as possible from Mary.
The operation of the business continued in the same tradition with everyone continuously working to make the Flying Scot an industry leader in quality and service. When new resins or fiberglass materials were introduced, Eric and Harry would consider their value to the production of the Flying Scot and many have been incorporated over the years so that the construction materials are state of the art while the design remains unchanged.
In October, 1991, Eric and Mary Ammann retired after more than thirty years of building the Flying Scot. Harry and Karen Carpenter bought all of the assets of the Gordon Douglass Boat Co., Inc. and formed a new company, Flying Scot, Inc. While the retirement of Eric and Mary Ammann and the dissolution of Gordon Douglass Boat Co., Inc. was a notable landmark in the history of the Flying Scot, it was not a turning point. Harry and Karen spent too much time with Eric and Mary to contemplate radical changes to the business practice. The name Flying Scot, Inc. was new, but the business philosophy and operation continued in the same tradition established over the previous 34 years. Flying Scot, Inc. continues to strive toward building the best boat possible and providing prompt, personal service. The new company employed Eric and Mary on a part-time consulting basis so that their years of experience are still a large benefit to the new company.
Dee Burns came to the company in May of 1994. She didn't have any sailing experience, but her previous office experience and gentle manner with customers soon made her a valuable asset to the operation. She soon became the office manager and is heavily involved in assisting Harry and Karen with sales and customer service.
Today the Flying Scot is a leading one-design class in the United States. While many small boat builders have folded their tents, Flying Scot, Inc. has continued to grow. The ever increasing number of Flying Scots has increased the demand for parts and as the boats age, repair and refurbishing is becoming a larger part of the business. While remaining open to new projects and new opportunities we have always believed firmly that "slow and steady wins the race".
This philosophy has certainly proven successful over nearly 50 years of continuous production.